📅 Updated the article "German cockroach extermination tips to welcome the Lunar New Year 2023" last December 20, 2022 at TKT Pestcontrol insect control company
Send you New Year wishes and tips to kill German cockroaches to welcome the Lunar New Year 2023.
"Happy 2023
Fortune found fortune
Money is in flux
Money comes out slowly
Health has surplus
The next attack
Love is exposed
Sublimation happiness
Best wishes to everyone
A great year"
So there are only a few days left until Tet. However, we are currently recording in many apartments and households in Ho Chi Minh City where German cockroaches are raging. Many people are worried about having to welcome "uninvited guests" in their homes during the coming Tet holiday. Because the damage caused by German cockroaches is extremely large. Most of all, they are different from conventional remedies. However, you do not need to worry when there are effective cockroach extermination tips below, let's find out!.
1. What is the difference between German cockroaches and common cockroaches?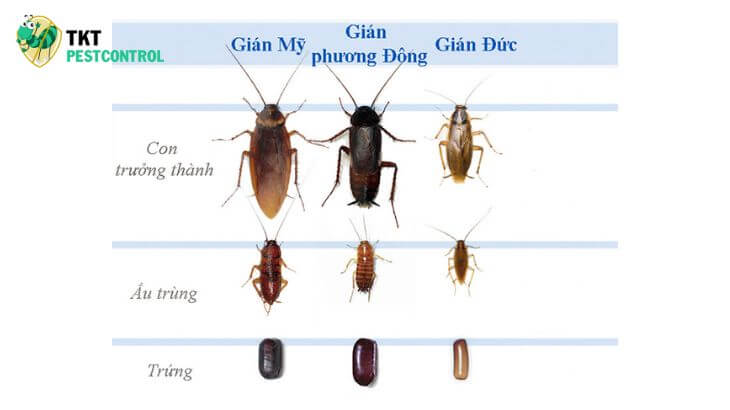 The German cockroach (blatella germanica) is a species of cockroach in the family Blattellidae. This cockroach species is from 1.3 cm to 1.6 cm long and in some cases larger. But they are usually much smaller than common cockroaches. It can be light fawn to almost black, and has two dark parallel stripes running from the tip to the base of the wings. Although it has wings, it cannot fly. They like to live in wet places. Reproduces faster than common cockroaches and has a longer lifespan in the harshest of habitats.
2. Are German cockroaches harmful?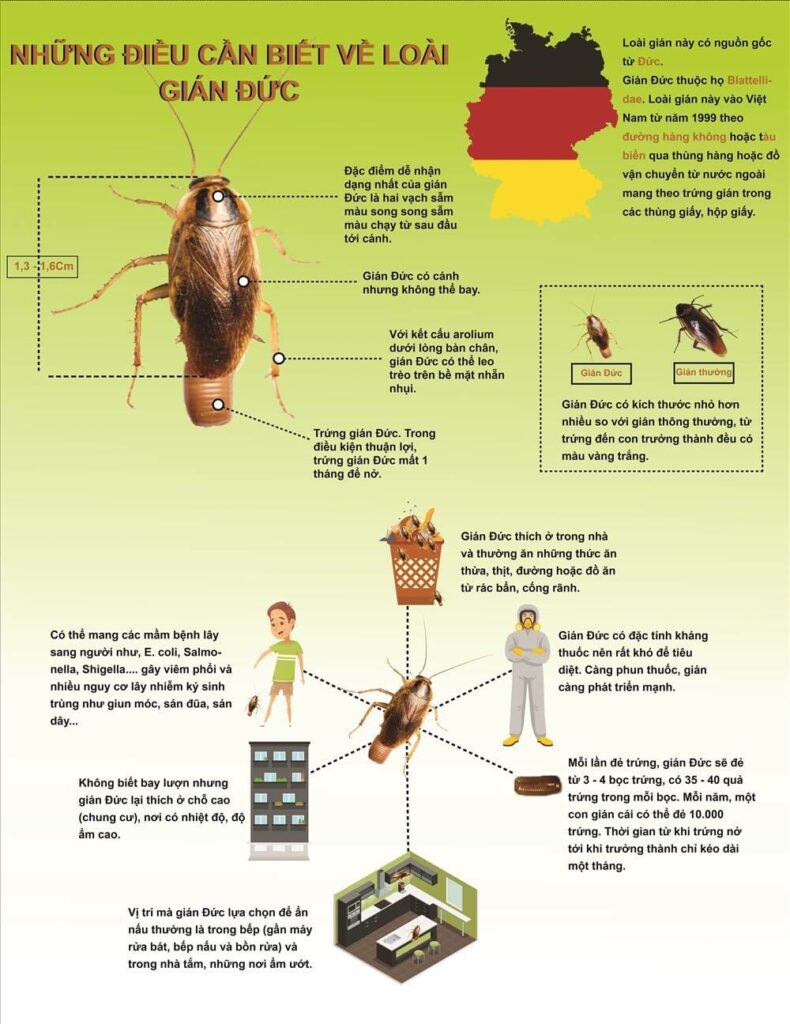 The answer is yes, they are more destructive than normal cockroaches. Therefore, many families panic and fear when they discover cockroaches in their homes. The effects of German cockroaches include:
Risk of infection
German cockroaches with their survival ability as well as their longevity. Making them ideal transporters for pathogens and bacteria from many different places. Common are E. coli, Salmonella, Shigella… they can cause pneumonia and infect parasites such as flukes, worms, etc. They will spread pathogens all over the house and affect your family's health. enjoy.
Allergic reaction
In addition to increasing the risk of infection with pathogens. They also leave waste or molt around the house. This is very dangerous for people with sensitive skin and allergies. Deficiency they appear conditions such as redness, stinging eyes, diseases of the nasal passages, … Because the waste of German cockroaches has a very unpleasant odor.
German cockroaches can bite
German cockroaches are very aggressive, ready to bite people when they are looking for food or food particles cling to people, the case of human bites occurs when the number of cockroaches is too much or when cleaning the house without paying attention. A cockroach bite wound is not serious, but if the cockroach is infected, these bacteria will be harmful to health.
Destroying furniture
In addition to organic food such as leftovers, meat, fish, … they also eat other items such as books, clothes … Destroying furniture and the cost of repairing those items is also very expensive. In particular, they also leave disease-causing bacteria on those items.
3. 10 effective German cockroach extermination tips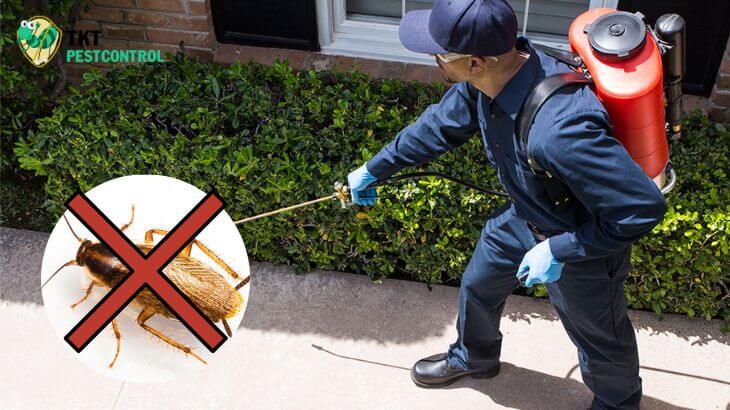 3.1. German cockroach extermination tips with cockroach baits
This is one of the most used tips. Because German cockroaches have agile properties, it is difficult to kill them with ordinary insect sprays to achieve the best effect. So rat bait is the best way to do it at home. TKT Pestcontrol would like to introduce some reputable cockroach bait brands that can kill this type of cockroach, you can choose MaxForce, Cleanbait, Power.
3.2. German cockroach extermination tips with white vinegar
White vinegar is used a lot to kill insects. Including German cockroaches, the method is very simple. Prepare water and white vinegar, then mix the mixture in a ratio of 1:1. Using a kitchen towel and spraying the previously mixed canister on areas where cockroaches often appear will easily kill cockroaches. It is safe for use in the kitchen, safe for both children and pets.
3.3. German cockroach extermination tips with Baking soda
Baking soda can make the German cockroach's stomach swell up when they eat it. Baking soda (baking powder, baking soda) or borax. These two substances can be combined with sugar to create baits to kill cockroaches. Within 3 to 4 days, you will notice the visible effect of this mixture.
3.4. German cockroach extermination tips with catnip (catnip)
This method is suitable for families with cats, catnip is a great product to get rid of cockroaches. Nepetalactone in catnip leaves has insect repellent properties. Use a handful of leaves for 2 cups of water, boil the leaves for about ten minutes and store in the refrigerator.
3.5. Tips to kill German cockroaches with coffee grounds
Coffee grounds work like baking soda. Can make a perfect trap. Put the mixture of coffee grounds and water in the pot to let the cockroaches crawl into it. Apply a layer of vaseline to reduce friction so German cockroaches can't crawl back out.
3.6. Tips to kill German cockroaches with Listerine mouthwash
Listerine mouthwash can replace the cockroach spray in the house. Because the mouthwash contains menthol, thymol and eucalyptol, cockroaches cannot resist these ingredients, so they will die immediately. The advantage of mouthwash creates a pleasant scent and is not toxic when used. But on the contrary, the cost is high.
3.7. Tips to kill German cockroaches with lemon, orange, grapefruit
You can use lemon juice to mix in cleaning water, kitchen cleaner to clean, disinfect and help repel cockroaches effectively. Or you can crush lemon, orange, grapefruit peels around the house or areas where cockroaches live, the smell of these peels helps repel cockroaches.
In addition, for hard to reach places that cannot be cleaned, you can use lemon juice to spray on those areas or burn lemon peels to release the scent of essential oils to help repel cockroaches more effectively.
3.8. Tips to kill German cockroaches with sugar water
You can make a German cockroach trap using sugar water. The method is very simple: cut the body of the plastic bottle at the position of 1/3 of the length of the bottle body from the top down. Next, remove the bottle cap, turn the body upside down above the cut cap and place it snugly on the body of the bottle. You mix sugar water and then pour it into the bottle (remember to leave a distance from the water surface with the mouth of the bottle so cockroaches can't escape). This way you can easily lure German cockroaches into traps.
3.9. Tips to kill German cockroaches with soap
German cockroaches hate the smell of soap, so you just need to put some soap in a dish and place it near the places where cockroaches often appear, cockroaches will especially stay away from places that smell soap. Or you can mix water and soap together. Then spray directly into the cockroach's nest, most cockroaches will die because the soap makes them suffocate. This is an extremely effective, non-toxic, and inexpensive way to deal with cockroaches with ingredients that every home has.
3.10. Tips to kill German cockroaches with camphor
Grind camphor into a powder and then mix it with finely ground red pepper in a ratio of 1:1. Then you sprinkle the mixture on walls, doors, humid areas that often have cockroaches. When the smell of camphor is heard, cockroaches will not dare to come back.
See more: POCKET effective tips to kill cockroaches to welcome Tet safely
4. List ways to prevent German cockroaches from attacking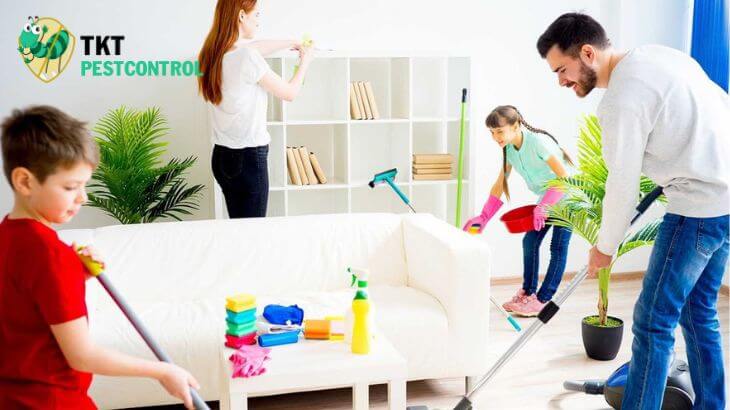 In addition to the tips to kill German cockroaches, it should be combined with ways to prevent German cockroaches from attacking. Because cockroach prevention is much easier than killing cockroaches. You should not skip this step. TKT Pestcontrol would like to introduce some ways to prevent German cockroaches:
Trash cans are always thrown out regularly, clean the trash cans after use
Leftover food is covered, if thrown away, it should also be neatly and sealed so that cockroaches cannot enter
Kitchen utensils such as: bowls, plates, microwaves, ovens, stoves are always clean, no leftovers stick to them.
Keep the house clean, don't let the house get damp
Be proactive to protect your family's health!
5. The fastest and most effective service to kill German cockroaches in Ho Chi Minh City
Although there are many Tips to get rid of German cockroaches. But these ways are only temporary methods. Lead is suitable for apartment families with few German cockroaches. To treat the root, the best way is to contact professional cockroach extermination service providers. They have full equipment, insecticides are strong enough to be able to destroy all cockroaches from father cockroaches, baby cockroaches, to cockroach eggs. So this is the most effective way for families to get rid of German cockroaches from the house.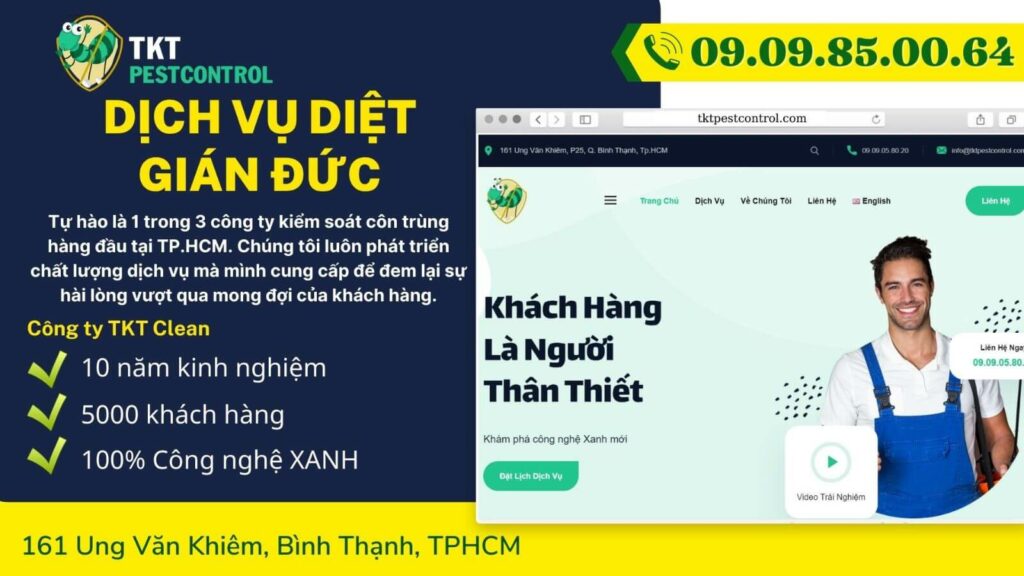 TKT Pestcontrol will be the best choice. We are always fully equipped with the most modern equipment to ensure that we can completely destroy the German cockroaches. In addition, we prioritize the use of insect sprays containing natural ingredients that are safe to use. Does not contain substances that affect family food or commonly used household items. Contact now to drive German cockroaches out of the house before Tet arrives on the doorstep.

09.09.72.68.03
TKT Pestcontrol® Pest Control Company
Head office: 161 Ung Van Khiem Street, Ward 25, Binh Thanh District, HCMC