📅 Update Post "How to make a bait box within 1 note " last December 12, 2022 at TKT Pestcontrol Pest Control Company
Is it complicated to make a termite bait box? Why use a termite bait box to kill termites? Today's article will help you answer this question.
There are many ways to kill termites. However, the only way to kill termites completely and safely with health is only biological termites. In which the termite bait box is an important component contributing to the success of this termite extermination process. Let's learn how to make a bait box with TKT Pestcontrol.
1. What is a termite bait box?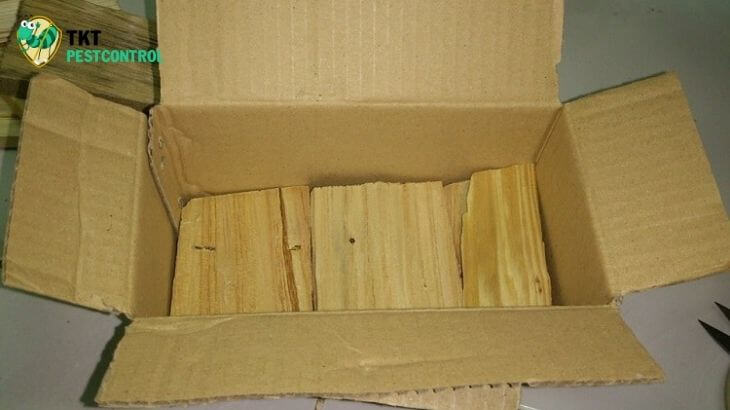 Termite bait box is a tool to help focus and attract termites to a certain area. The square-shaped box is made of paper and contains wood, the termites' main source of food and nutrients.
Knowing how to make a termite bait box can save you time looking for termites and insecticide. You just need to put the box and wait 10-15 days and then spray the spray on the termite bait box, which can cause a large number of termites to become infected.
The method is also very simple, you can do it at home without spending too much money. With just a few tips shared below, you can make your own standard decoy boxes, just as effective as when you buy them in stores.
2. Instructions on how to make a bait box within 1 note without spending money
2.1. Regulations on how to make a standard termite bait box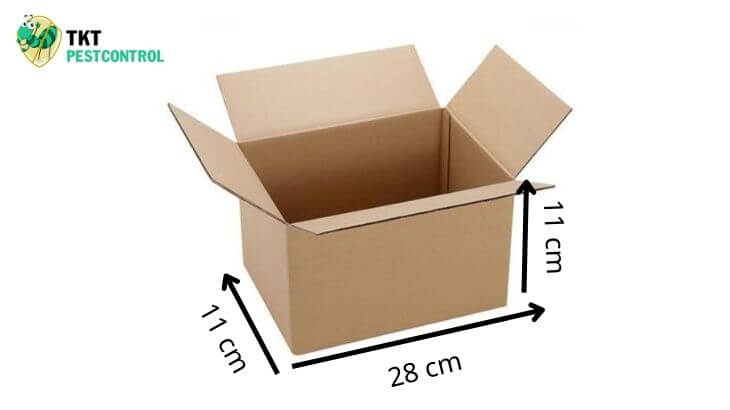 The method of making the Termite Box is considered to be in accordance with the general standard. Must satisfy the following parameters:
Length: 28cm
Height and width: 11cm (28x11x11)
Shape: The box has a closed rectangular shape.
2.2. Materials to make a termite bait box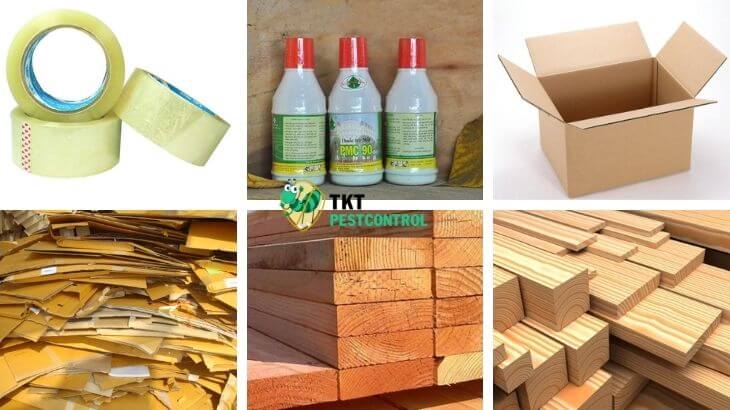 Need to make a termite bait box:
Adhesive Tape
1 vial of PMC-90
Cardboard boxes, cardboard: Used cardboard from boxes of noodles, beer, soft drinks, .. used. Or buy cardboard at grocery stores
Softwood: Pine, Leftover wood,… Or can be used from wooden slats used to make crates, pallets.
2.3. How to make a termite bait box and how to use it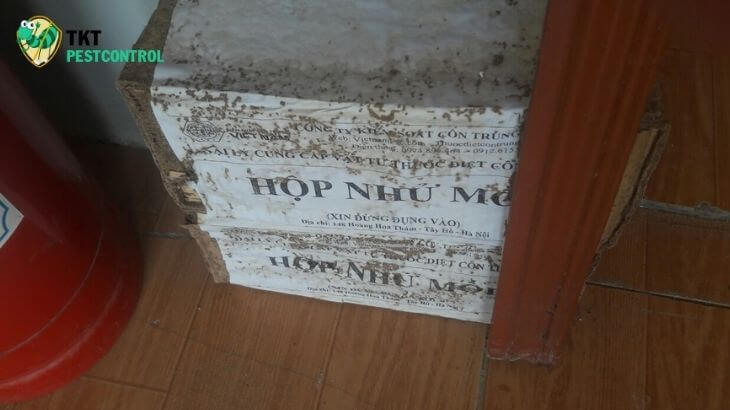 Prepare all the tools, then start by following these steps:
Step 1: Use scissors to cut into separate pieces and put them back together into a box with dimensions: 28cm long x 11cm wide x 11cm high. Use adhesive tape to stick the ends of the cardboard together so that the box is solid, creating a solid box. into a complete block.Leave one side as the lid unsealed.
Step 2: put wood inside the termite bait box. These slats need to be chopped, with a thickness of 0.5 cm to 1 cm. Then, place the wooden stick in the termite bait box so that the space is tight.
Step 3: After filling up the wood pieces into the termite bait box, we close the lid to complete and make another box. Depending on the number of termites to be treated, prepare the corresponding number of boxes.
Step 4: Locate the living termite nest to destroy. Make them find a new home for themselves. At this time, place the bait box that has just been fixed on the way the termites eat.
Step 5: Wait for about 2-3 weeks, then remove the box, pour out the termites to sprinkle with termiticide. Then put back the old position and do the same again until the termites are completely eliminated. Sprays can be used to prevent termites from returning for a long time
Step 6: After performing the above steps, clean, repair damage, replace severely damaged utensils that cannot be used anymore.
3. Location and time to place the bait box
3.1. Location of the bait box
After doing the same as how to make a bait box follow the steps above. It should be placed in places where the lips are eaten up, there is a risk of being attacked by termites such as wooden objects, cartons, … in wet places. After wetting the bait box, cover it with plastic wrap to easily create a moist environment that termites love.
Fix the box with steel and nails firmly, and in the process of placing the box, minimize movement or impact on the box. Place places with little exposure to daily activities to avoid the aforementioned.
3.2. Time to set the bait box
Usually, the time to place the termite bait box in the summer should be about 10-20 days. Because the summer is very dry, the termite bait box can gather the number of termites in a short time.
For winter it takes about 15 to 25 days. Because the winter weather is very cold, termites will be less likely to move out of the nesting area. And less active than usual.
4. Why use a termite bait box?
There are many ways to kill termites on the market today. But the termite bait box combined with the biological termiticide PMC 90 is being considered the most effective and safest home termite method today. It is also a simple method that is easy to implement that anyone can do, and also has a certain effect on attracting termites to feed.
Effectiveness is not only helping to eradicate termites but also reducing the risk of harm to human health, pets and the surrounding environment. Therefore, at present, there are many companies that have been applying termite bait boxes with biological termite control methods for their customers such as:
Termite removal service at home
Termite extermination service
Office termite extermination service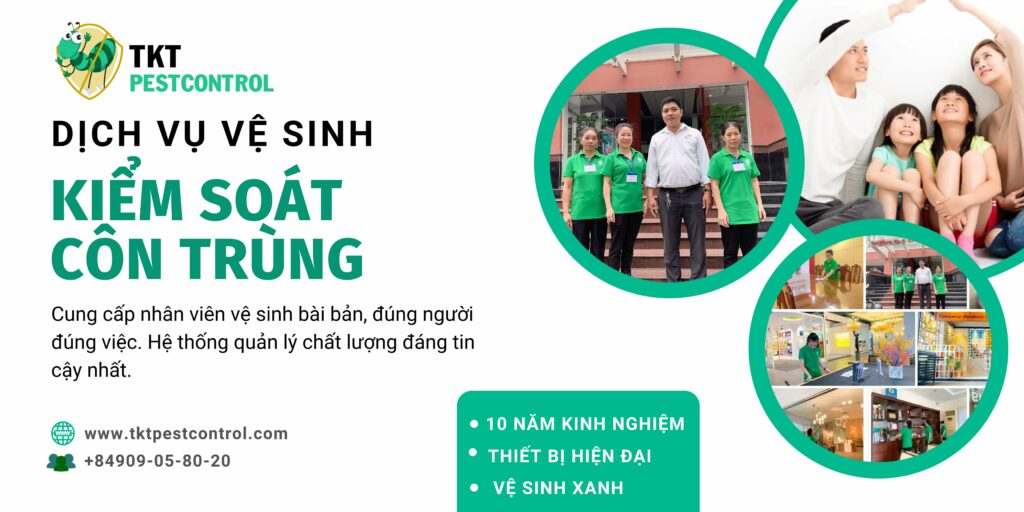 See more articles
Termites fly into the house, how to chase them away? – https://tktpestcontrol.com/moi-canh-bay-vao-khap-nha/
How to treat termites in the house Latest 2020 – https ://tktpestcontrol.com/cach-tri-moi-duc-tuong-trong-nha-moi-nhat-2020/
Instructions on how to treat wood-eating termites ✅ 5 Common ways – https: //tktpestcontrol.com/huong-dan-cach-tri-con-moi-an-go/
4 Simple and effective ways to kill termites under the floor – https://tktpestcontrol.com/4-cach-diet-moi-duoi-nen-nha-don-gian-hieu-qua/
How to catch queen termites in the house simple and effective – https://tktpestcontrol.com/cach-bat-moi-chua-trong-nha-don-gian-hieu-qua/
Pocket how to kill weevils in rice that you should know- https://tktpestcontrol. com/cach-diet-mot-in-gao-tai-nha/
How to kill wood termites ✅At home ✅Original ✅Simple- https://tktpestcontrol.com/cach-diet-moi-mot-go-tai-nha-tan-goc-don-gian/
Summary
The above is how to make a termite bait box within 1 note without spending money, Hope the information provided above can improve the status of termites in your home. If the situation has become serious and cannot be handled by the termite box method, you can contact us via hotline 09.09.72.68.03. To receive free advice as well as offer effective biosafety solutions. We are always ready to serve you

09.09.72.68.03
TKT Pestcontrol® Pest Control Company
Head office: 161 Ung Van Khiem Street, Ward 25, Binh Thanh District, HCMC