📅 Update Article "Note when using pest control services " last August 18, 2023 at TKT Pestcontrol Pest Control Company
Why should Note when using pest control services? What's wrong with the spray? This is the question that TKT Pestcontrol receives the most during the past 10 years of working. So let's go to the following article to find the answer to this question as well as know the notes when using pest control services.
1. Why should notes when using pest control services
Before understanding the note when using pest control services, let's analyze harmful organisms including (flies, mosquitoes, ants, cockroaches, rats, termites, German cockroaches, ants) cavity,…) are organisms that bring infectious diseases that are harmful to human health, and human property.
There are now many ways to kill these creatures. However, each method will have different advantages and disadvantages. If you do not have experience or use it in the wrong way, it can have the opposite effect. Therefore, many customers look to pest control services where there are trained and experienced professionals.

So, when using pest control services, do you need to save mean what? The answer is "YES" because in the process of providing services, if you do not know the information that TKT is about to provide below, it may cause the control to become ineffective. your health. Although the drugs are all licensed by the Ministry of Health to be safe to use, because most of the drugs used have chemical components, they will not be absolutely safe. If you missed the notes below, check it out!
2. Notes when using pest control services
One of the notes when using pest control services is Notes when using pest control services There are a lot of Harmful creatures in Vietnam nowadays. To control each type of organism, different methods are required. Which each method will have an equivalent note. Today TKT will introduce each type of note when using pest control services including: Insects, rats and termites. Let's find out in detail each note when using pest control services below
2.1. Notes when using pest control services
Because insects have a hundred times more sensitive hearing than humans. Therefore, all insecticides on the market are prepared in small doses that can affect insects but do not affect human health. However, there are some cases where people are allergic to the ingredients of the drug, so it is necessary to pay attention to the following notes to ensure the safety of yourself and your family.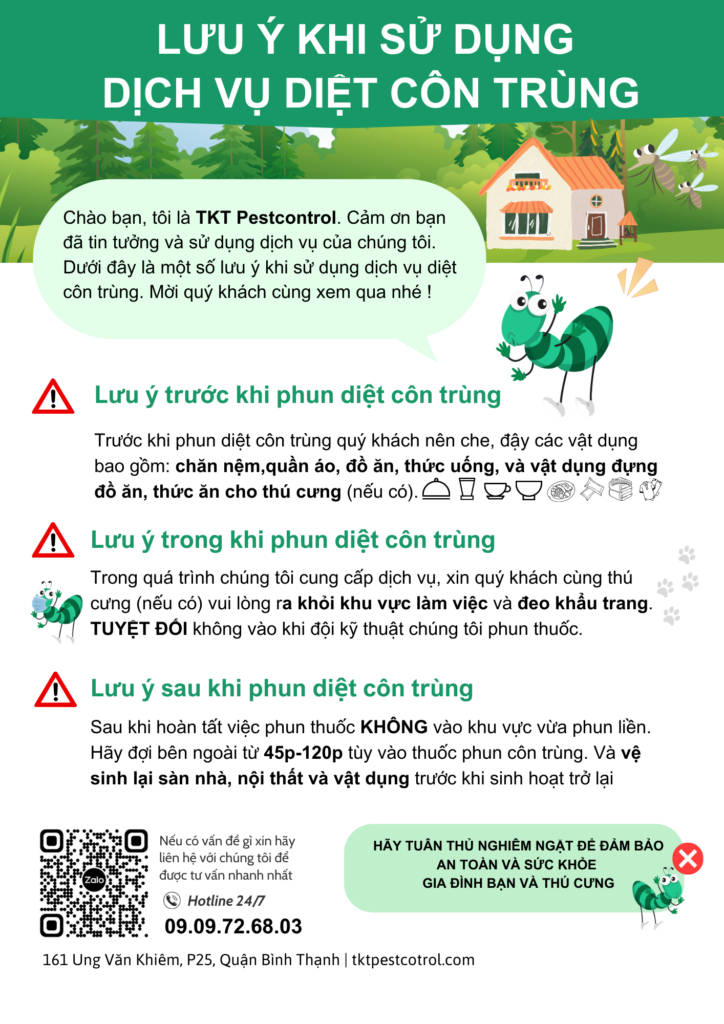 2.1.1. Note before spraying insecticide
Before spraying insects, you should cover, cover items including: blankets, clothes, food, drinks, and food containers, pet food (if available). Because when spraying, it will stick to objects, food and drugs that can go directly into the human intestinal tract, which will be very dangerous and can lead to poisoning. As for blankets and clothes, because they are made of fabric, the adhesion time is very long, so it is best to store them all in a cupboard, not outside the space. This is one of the general considerations with any spray. 
2.1.2. Note while spraying insects
During our service, please with your pet (if any) please leave the work area and wear a mask. ABSOLUTELY do not enter when our technical team sprays. This is the time when the maximum dose of drugs in space can have a direct effect on the respiratory tract. Very dangerous.
2.1.3. Notes after spraying insects
After finishing spraying NO on the area just sprayed immediately. Please wait outside from 45p-120p depending on insecticide. And clean the floors, furniture and appliances before returning to activities. You need to wipe it with clean water.
See more articles about killing mosquitoes:
2.1.4. Notes when using pest control services in English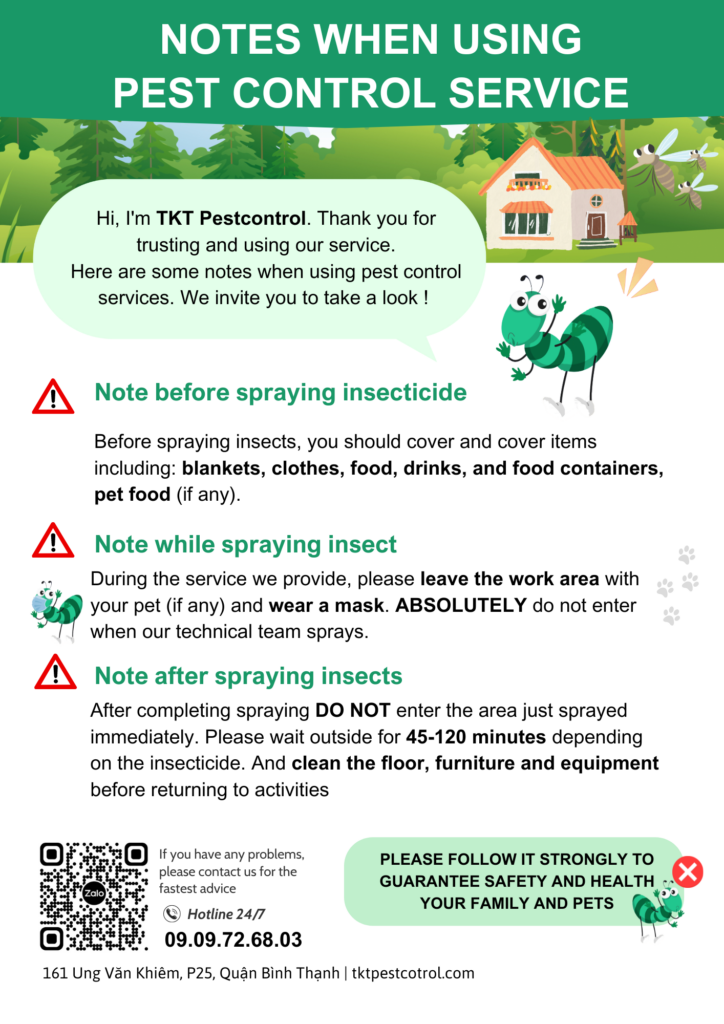 2.2. Note when using mouse removal service
Different from using insect extermination services, the note of rat extermination service is simpler. Since most rat extermination services use glue traps and traps, you only need to follow the following notes:
Keep children and pets away from mouse traps.
No arbitrarily moving the mousetrap
If you do not do it correctly, the consequences are very serious. Glue traps that stick to people are very difficult to remove and traps can also injure you and your family.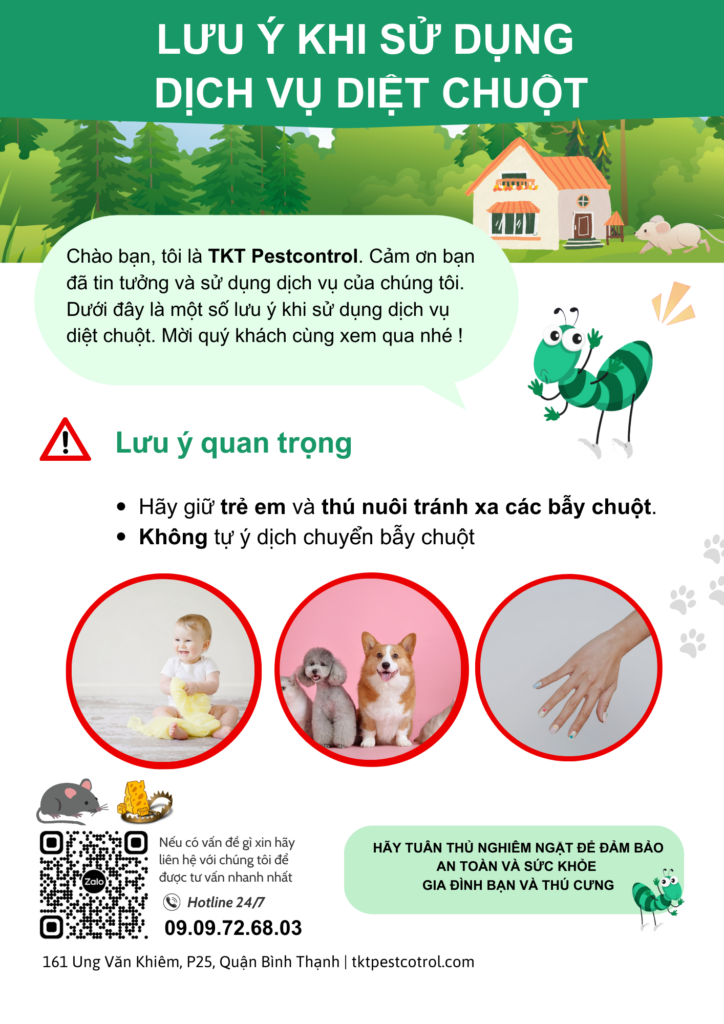 See more articles about mice
2.3. Note when using termite extermination services
Usually we will set up termite stations to place termite traps so you should not go near termite stations or move them. It will make the service delivery really inefficient and even cause the termite nest to move around. Here are some notes of termite extermination services:
Please keep children and pets away from termite stations
No arbitrarily teleport termite station
Do not open the box termite traps, check out the termite station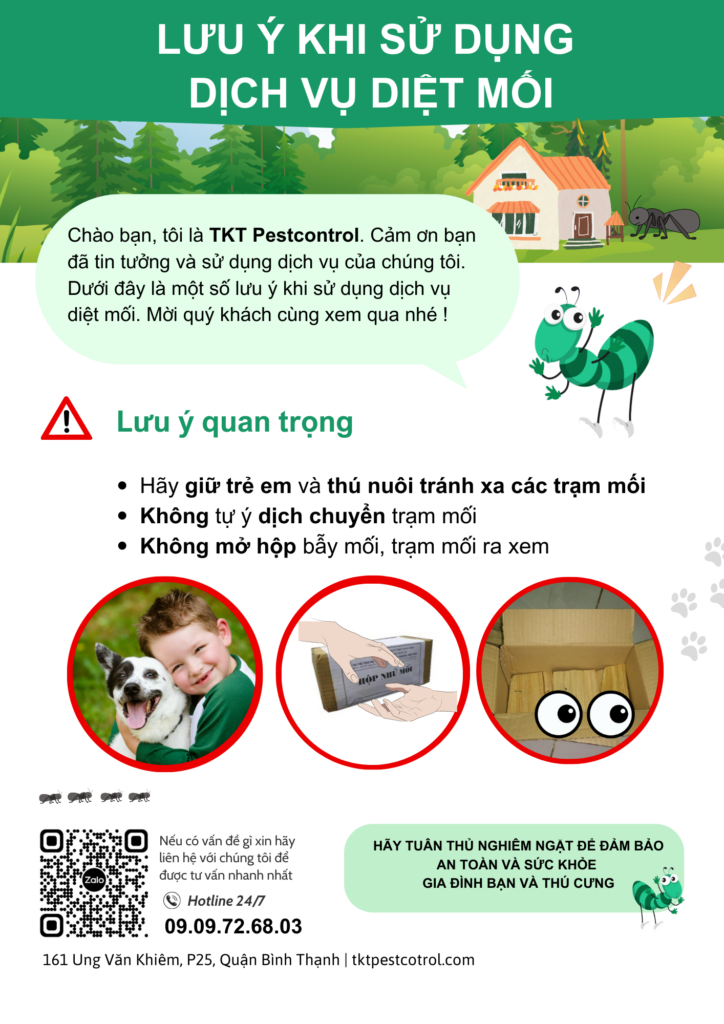 Summary
Through the article, we understand more about what pest control services include and what to Note when using pest control services. TKT Pestcontrol with the motto of treating customers like family. We always send notices to customers before providing safety services to each customer. If you are wondering choosing a safety service provider TKT will be the best choice. With a team of enthusiastic staff and 24/7 advice, contact us now to receive attractive offers.
Pest control service reference video

09.09.72.68.03
TKT Pestcontrol® Pest Control Company
Head office: 161 Ung Van Khiem Street, Ward 25, Binh Thanh District, HCMC